The Problem
Identifying the issue is a very important first step. Our problem was quite challenging. Questback needed a new solution to move from a B2B consultancy to a SaaS business with an out of the box web app. The survey landscape is changing and since companies have a shorter and shorter lifespan, they need to understand their organisation better and quicker. We needed a tool that observes the organisation, identifies the issue and most importantly helps you improve by suggested actions and ideas. This is how the idea of Qubie was born. I also started a research and found that our main competitors are quite a few:
Some would say that Qualtrics and Surveymonkey and many more are competitors, but they are more focused on surveys, where we wanted to distance ourselves from them. Another thing that differentiates us from Peakon and the rest is that we actually give you good recommendations on what to do next.
The Goal
Teams work great when there are no issues, but most of us don't even know we have issues until someone points them out. Although there were a lot of tools, no one really gives you a good idea about what to do next. Also people hate surveys. We saw an opportunity and grabbed the opportunity. I remember one of the people I interviewed later said:
People don't wake up and think... oh I feel like having a survey today. No they only want to see results and ideas on what to do with them.
We decided to build a tool that addressed these two things. First, make sure it continuously listens to your team and organisation without making it feel as if you're filling in a survey. Second, make sure we give them good ideas on how to improve their score. And lastly, make it damn easy to use.
The Approach
We started by putting all of these ideas onto one of our walls and started ideating how the flow should look like. The main idea was there: Listen, identify the problem, dive deeper into the problem and suggest improvements. The first main task was to see how the so called "Guides" would work like and how you initiate one. A guide is basically some tailored questions that help identify issues with your team, or leadership skills, or anything else really. By packiging them up we could simplify the flow of getting feedback from people who don't know anything about surveys, but want to improve their team.
Slowly that transitioned to something more tangable which we could then start working from. One thing that became quite clear early on from our user testings is that people needed a good onboarding as well as a demo with fake data which they can play with. They needed a way to buy into the product and invite more people.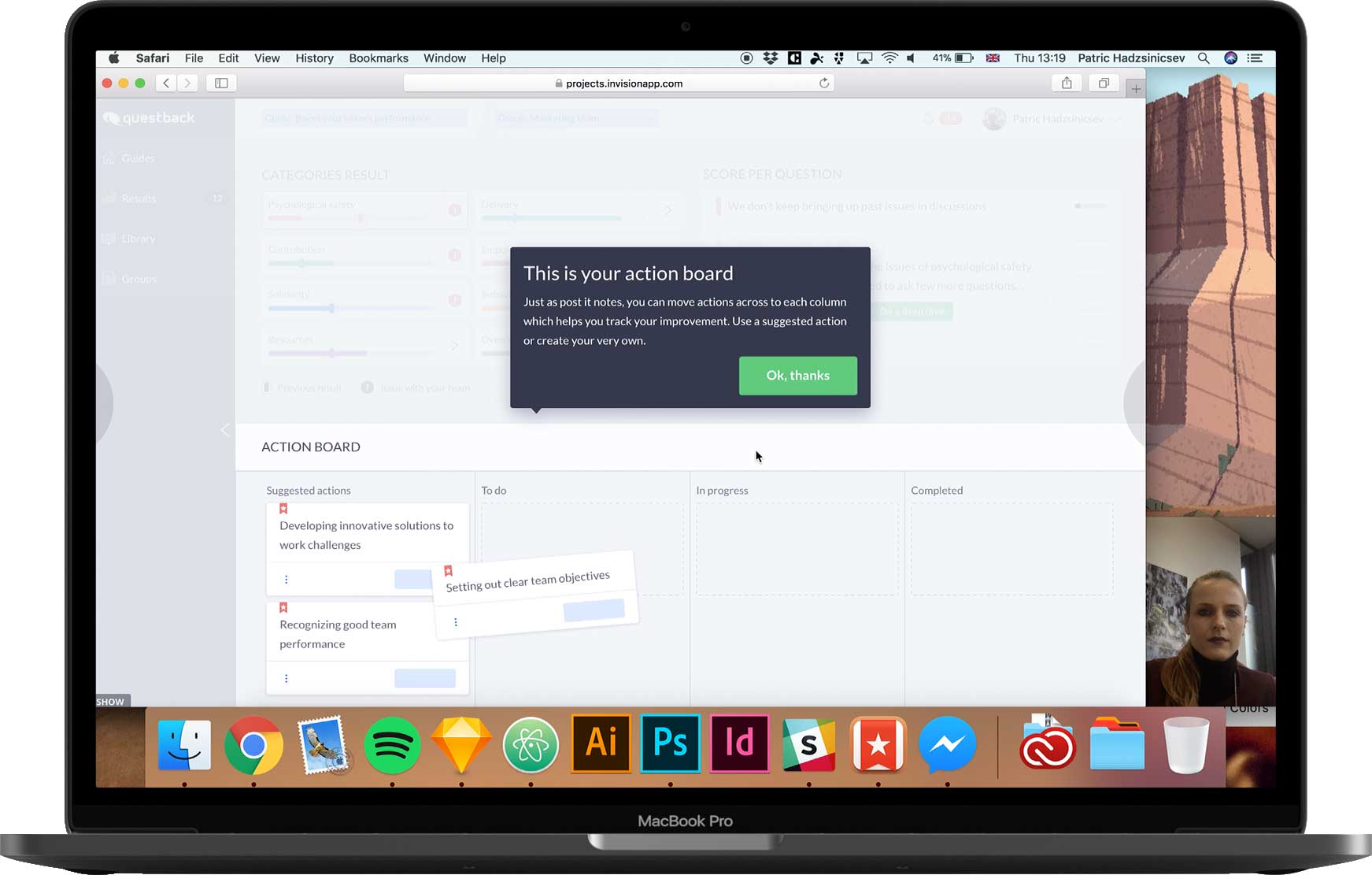 Another interesting insight was that people really valued the sence of progress. Although the web app can do a lot, the progress and clear steps indicating what's next helped make feel users at home throughout the product. Starting from the "Guide setup" all the way to the action board and "Library".